Ilaria Gianni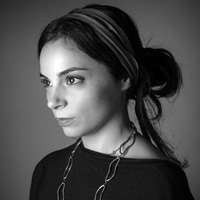 Ilaria Gianni
Nascuda a Roma, és comissària i escriptora.
Després d'un Grau i Postgrau en Història de l'Art per la Universitat de Roma "La Sapienza", va obtenir un MFA en Comissariat al Goldsmiths College.
Des de 2009 ha estat co-directora de la Nomas Foundation, junt amb Cecilia Canziani, on és responsable de la programació artística, que inclou exposicions internes i externes, seminaris, conferències, tallers, residències i publicacions. Entre les mostres comissariades: Italo Zuffi – Quello che eri, e quello che sei(2015); To Continue. Notes on a Sculpture Cycle (2014); A Theatre Cycle (2013); A Painting Cycle (2012); A Film Cycle (2011); Chiara Fumai – There Is Something You Should Know (2011);  Rosalind Nashashibi – Carlo's Vision (2011); Temporaneo 2011 – Contemporary Art in the Evolving City (2011); A Performance Cycle (2010); Etienne Chambaud – Lo Stato delle Sirene (2010); Temporaneo 2010 – Contemporary Art in the Evolving City (2010); Michael Dean – Our Daily Permanence (2010); Nina Beier & Marie Lund – The Testimony, Les Sabots, The Making of Differente, The Complete Works (2009); Bedwyr Williams – Mini Bus (2009); Else Leirvik – I Never Slept Under the Arch (2009).
Ocupa un càrrec de Professor Adjunt de l'Art a la Universitat John Cabot, Roma, i és professora al "Master of Art" a la Universitat Luiss Guido Carli, Roma i al Course in "Curatore Museale e di Eventi" al Institut Europeu del Disseny, Roma.
En els últims anys ha comissariat diverses exposicions i projectes d'investigació independents, entre els quals: In Polonia per saziare l'amore: Edward Krasinski, Tadeusz Rolke, Krzysztof Niemczyk, Paulina Olowska (Istituto Polacco di Roma and Fondazione Pastificio Cerere, Rome, 2014); Enchanted: The Poetics of Wonder (Furini Arte Contemporanea, Arezzo, 2014);Genova MaXter Program 2013 (Museo d'arte contemporanea Villa Croce, Genova, 2013); Fig 2: Still Life (National Gallery of Modern Art, Rome, 2013); Fig.1: Landscape (Spazio A, Pistoia, 2013); IX Edition of the Premio Furla (Ospedale degli Innocenti, Bologna, 2013); The Way Things Go Part 2 – An Incomplete Museum of the Future that is still tbc, (Frutta Gallery, Rome, 2012); Re-generation (MACRO, Rome, 2012); Roommates (MACRO, Rome, 2010); Voices from Silence (Galerie Opdhal, Berlin, 2010); Desiring Necessities (John Hansard Gallery, University of Southampton, Southampton, 2009); Fragile Currency (Klemm's Galerie, Berlin, 2009); Behind (Monitor, Roma, 2008); Here Once again. Where Art and Cinema Interact (MOA e Loop Gallery, Seoul, 2008); I desired what you were, I need what you are, (Maze Gallery, Torino, 2008); Step in Step out (Fondazione Adriano Olivetti, Rome, 2006/2007).
En 2008 va ser cofundadora de l'editorial col·lectiva d'art Impress (activa fins 2011), i des de 2009 és membre del col·lectiu Art at Work. Ha col·laborat amb textos a nombrosos catàlegs d'art i ha col·laborat amb revistes com «NERO», «Lo Specchio+», «Circa», «Flash Art», «Arte e Critica», «cura», i és una dels contribuents italians per artforum.com.