Lorena Martínez de Corral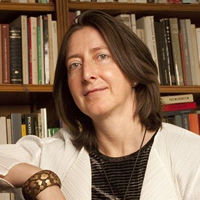 Lorena Martínez de Corral
Born in Madrid, she is an art historian and independent curator.
She has a degree in Geography and History by the Complutense University of Madrid and a Master in Fine Arts by the Institute of Fine Arts, New York University.
Actually she is Director of the Collection of Contemporary Art of the Coca-Cola Foundation. Co-directs Expo Actual S.L., company dedicated to curating exhibitions of modern and contemporary art, the development of museological and museum projects and artistic advice to private and institutional level. She is responsible for the Valorisation of the European Parliament's Art Collection Project, 2012-2013.
She has been Fine Arts Advisor, Madrid (2011-2013) and Co-director of the project "Escultura en Espacios Públicos" of Ciudad Financiera Banco Santander in Boadilla del Monte (2002-2007). Director of cultural content of the Internet portal Gioconda.com (2000-2002) and Coordinator of Exhibitions for Fundación Caja Madrid (1996-2000).
Over the past few years has curated exhibitions: "José Manuel Ballester: Bosques de Luz", at IAACC Pablo Serrano de Zaragoza and Espacio Tabacalera Ministerio de Cultura de Madrid; Co-Curated "Thomas Ruff: Series" and "Darren Almond: ATMOS", Sala Alcalá 31; curated "La Abstracción en la Realidad", Alcalá 31, Comunidad de Madrid. "Trayectorias: diez años de fotografía y vídeo en la Colección Coca-Cola". "Ultima pintura en las Colecciones de DA2 de Salamanca y la Colección Coca-Cola" Centro de Arte La Regenta, Las Palmas de Gran Canaria, Centro de Arte Juan Ismael de Fuerteventura; Co-curator of the exhibition commemorating "25 años del INJUVE", Co-curator of the exhibition "Altadis: Historia de una Colección", Co-curator of the exhibition "Timeless Territories" at Mina Campina, Loulé, inside the project Art Algarve ´09. June to September 2009. Curator of two exhibitions for the Coca-Cola Foundation Collection and Kiosco Alfonso y Palexco at A Coruña "Sabor e Arte" June to August, 2009. Curator of the exhibition "Luisa Lambri: El Espacio, La Luz, La memoria del Tiempo", Fundación Rosón Arte Contemporáneo, Pontevedra, Enero-Mayo 2009. Co-curator of "AQUÍ, 4 fotógrafos desde Madrid", Sala Canal Isabel II Comunidad de Madrid, January to April 2009. Assistant curator of the exhibition "Olafur Eliasson: Take your Time" for the Dallas Museum of Art, Texas. November 2008 to March 2009. "Adquisiciones Recientes Fundación Coca-Cola", DA2 de Salamanca, 2008; "Salzillo21", Sala Verónicas, Murcia, 2007.Co-curator of the exhibition "Realidades, Fotografías de Pierre Gonnord", Museo de Bellas Artes de Sevilla 2006-2007 and "Planes Futuros: Arte Español de los 2000" El Baluarte, Pamplona. Curator of the exhibitions "Circuitos: Arte Joven de la Comunidad de Madrid", Sala Avenida de América, Madrid, 2006 and "Olafur Eliasson: Caminos de Naturaleza" Fundación Telefónica, Madrid, 2006.
Part of Fundación Rosón Arte Contemporáneo Trustees, Pontevedra; Advisory Committee on the Collection of Contemporary Art of Comunidad de Madrid; Fundación Yannick & Ben Jakober, Mallorca.