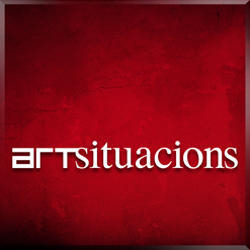 ART Situacions
A prospective look
The system of values on which our society has long rested now finds itself in a period of total redefinition. Culture and art constitute an effective tool for honing our criteria, a path that may illuminate the uncertainty in which humanity finds itself immersed. It is this conviction that is the genesis of ART Situacions, an invitation that seeks to support emerging contemporary art. From the Middle Ages to the present day, private initiative has constantly fostered artistic creation. We could draw a line from the Medici family, the driving force behind the Renaissance, to Heiner Friedrich and Philippa de Menil, the promoters of the Dia Art Foundation, who encouraged the development of minimal art, to cite just two illustrious examples that are widely separated in time. This proposal is a new step in stimulating private initiatives, foundations and collectors, along with all art lovers, with whom we are delighted to associate ourselves.
Being well aware of the scarcity of opportunities for the youngest sector of present-day art, ART Situacions aims to promote its dissemination and to bring it to a broader public. It does not seek to reflect the tastes of the collectors themselves, nor to promote any particular artistic theme or discipline, but rather to constitute a prospective look. We count on the collaboration of specialists of national and international prestige who together select the artists who create an incisive panoramic vision of the youngest generations in nowadays Art scene. Without a doubt, this is an evocative group of creators with internacional projection, who are exhibiting undisplayed works made from various media, from paint and the object to video or performance action. A stimulating landscape of great polyhedric capacity, united by a firm desire to rethink the relationship of humanity with its environment.
For us, it is a great satisfaction to give our economic support both to Spanish culture and the participating artists with the shared desire to energise the artistic sphere. I would also like to express our gratitude to all the people of the cultural world who, with their unconditional support, have made it possible to consolidate this project.
Pilar Forcada
ART Situacions Director